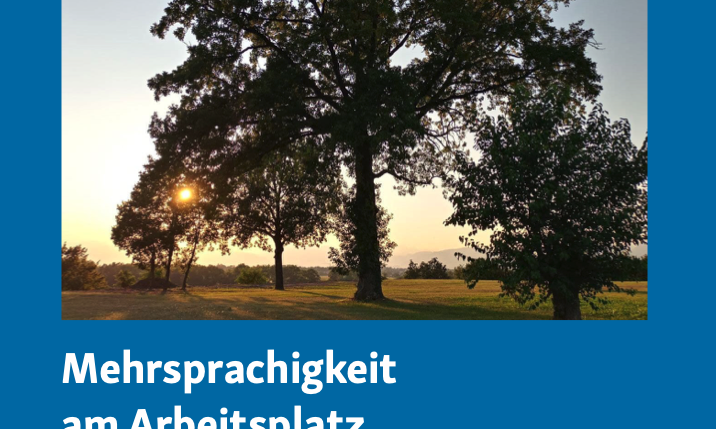 Just released
Neu erschienen
Mehrsprachigkeit am Arbeitsplatz (Frank & Timme)
Language mediation in the workplace: Which competences do experts in other fields need for their everyday professional language mediation practice? (by Andrea Cnyrim)
From the agency report on the morning news to websites, advertisements, product descriptions or user menus, software, instruction leaflets and the dubbed version of the evening series: the number of translated texts we consume every day continues to grow. While it may be regrettable that they are not all produced by qualified translation professionals, even experts recognise the ubiquitous increase in so-called 'non-professional interpreting and translation' and are taking it into account. Therefore, it does not come as a surprise that the companion volume to the Common European Framework of Reference for Languages (CEFR), published in 2017, suggests 19 new scales with descriptors for language mediation.
Particularly in view of the everyday language mediation practices in the workplace, the question arises today more than ever whether basic language mediation skills should be modelled and taught as a 'basic skill'. This article is dedicated to the question what such basic language mediation competence for multilingual workplace pracitces entail.
Sprachmittlung am Arbeitsplatz: Welche Kompetenz benötigen Experten anderer Fachrichtungen für ihre alltägliche berufliche Sprachmittlungspraxis? (von Andrea Cnyrim)
Von der Agenturmeldung in den Morgennachrichten über Webseiten, Werbung, Produktbeschreibungen oder Benutzermenüs, Software, Beipackzettel bis hin zur Synchronfassung der Vorabendserie: Die Zahl übersetzter Texte, die wir täglich konsumieren, steigt stetig weiter. Mag man auch bedauern, dass sie nicht allesamt von qualifizierten Übersetzungsprofis erstellt werden, selbst Fachkreise erkennen die allgegenwärtige Zunahme der sogenannten 'nicht-professionellen Sprachmittlung' an und nehmen sie in den Blick. So verwundert es auch wenig, dass der 2017 erschienene Begleitband zum Gemeinsamen Europäischen Referenzrahmen für Sprachen (GER) 19 neue Skalen mit Deskriptoren für die Sprachmittlung vorstellt.
Gleichzeitig fehlen in der Fremdsprachendidaktik noch immer spezifische Curricula und Vermittlungskonzepte ebenso wie eine verbindliche Begriffsklärung und umfassende Theorie- und Modellbildung.
Gerade unter der Vorgabe alltäglicher Sprachmittlungspraxen am Arbeitsplatz fragt sich heute mehr denn je, ob eine translatorische Grundbildung als 'basic skill' modelliert und vermittelt werden sollte. Die Translationswissenschaftlerin Christiane Nord begründete dies schon 1997 damit, dass unser Alltag immer mehr auf Übertragungen angewiesen ist (Nord 1997: 122) und nannte es "eine grundlegende Kulturtechnik". Sie plädiert neben der akademischen Ausbildung von "Übersetzern mit Fachkompetenz" auch für die Schulung von "Fachexperten mit Übersetzungskompetenz" (ebd.). Dieser Beitrag widmet sich aus einer translatorisch informierten Perspektive der Frage, wie eine solche grundlegende Sprachmittlungskompetenz für die mehrsprachige Arbeitsplatzkommunikation aussehen könnte.